WFilter NGF wifi monitoring solution
From Wiki of WFilter NG Firewall
1 Introduction
This solution enables you to monitor, manage clients internet usage and limit bandwidth in your WiFi network. When successfully deployed, you will be able to :
Monitor clients ip, mac, bandwidth and live connections in real-time.
Set internet access policy for clients.
Set bandwidth rate limit and monthly bandwidth cap for clients.
2 Network Topology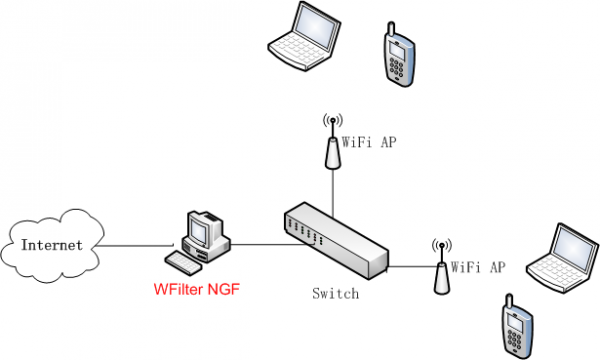 The NGF server shall have two wired network adapters.
The WiFi router shall work in AP mode.
If your WiFi router does not support AP mode, please check below steps:

Leave the WiFi router's WAN interface dis-connected, and connect the LAN port to NGF server.
Since NGF already has a DHCP service, you need to disable the DHCP service of your WiFi router.
3 Links