Internet Usage Monitoring
From Wiki of WFilter NG Firewall
1 Internet Usage Monitoring
The "Internet Usage Monitoring" module records internet activities, including:
Web Surf
Web Post
Outgoing Emails
Incoming Emails
File Upload History
File Download History
IM Accounts
FTP/Telnet Sessions
IP-MAC History
This module works both in "gateway mode" and "bridge mode". Enterprise license is required.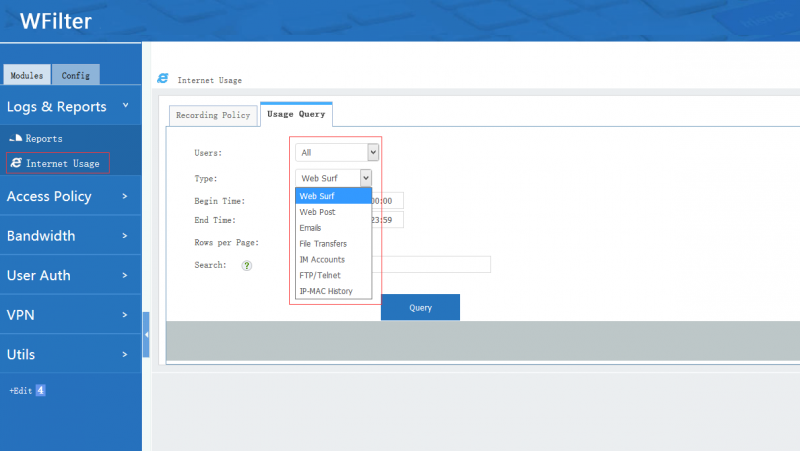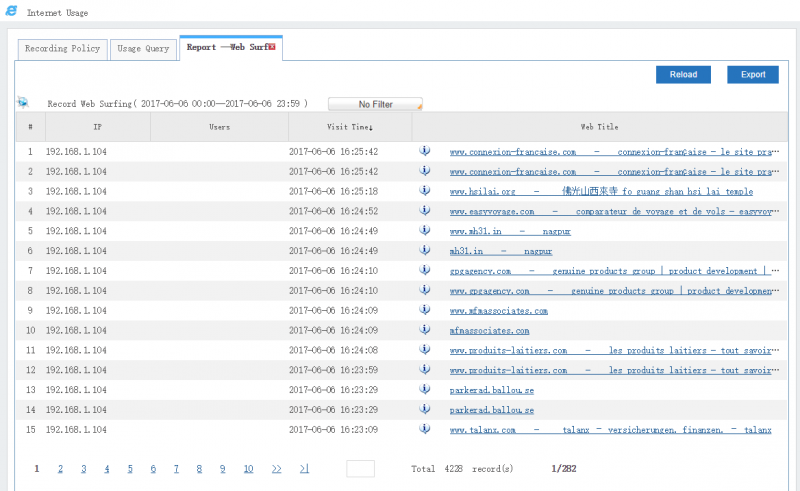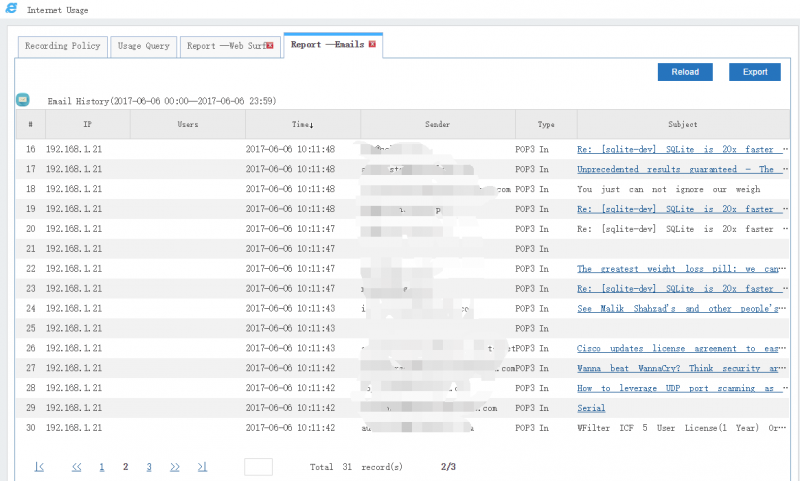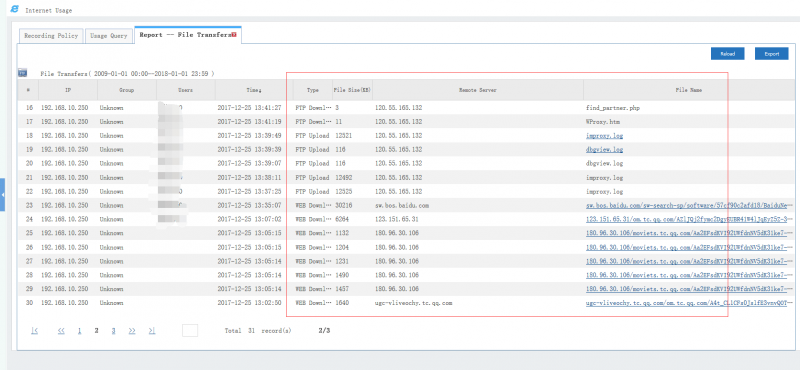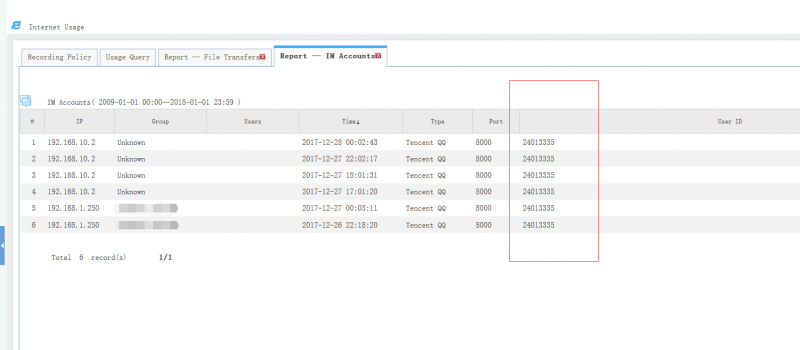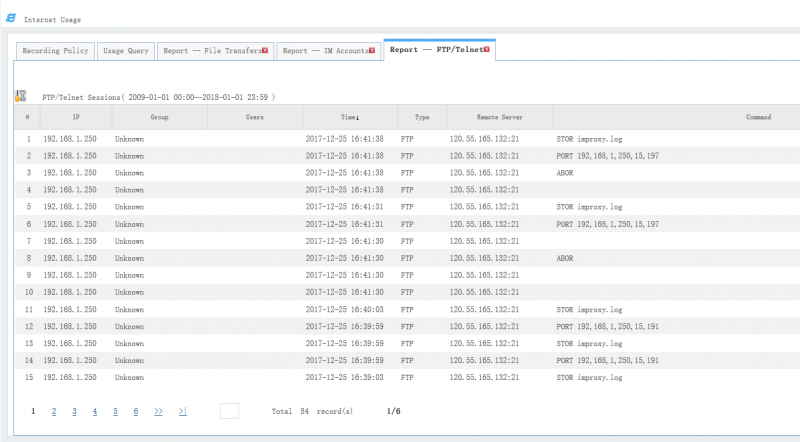 2 Recording Policy
For every client, multiple policies can be applied. For example:
A policy: record web surfing for a whole subnet.
B policy: enable "email recording" for a special IP in this subnet.
For this ip, both "web surfing recording" and "email recording" will be enabled.
Detailed "recording policy" settings are described in below.
2.1 Web Recording
Web Surf: record titles of visited web pages for http websites. For https websites, only domains will be recorded in default. To record https webpages, please check "SSL Inspector".
Web Post: record web post content for http websites. To record https websites posts, please check "SSL Inspector".
Web Post Size Limit: no recording of web post exceeds size limit.
Smart Filter: With this feature enabled, WFilter will not record visits by non-human. (Not 100% accurate)
Domains Exception: no recording of domains in the exception list. Wildcards "*?" are supported.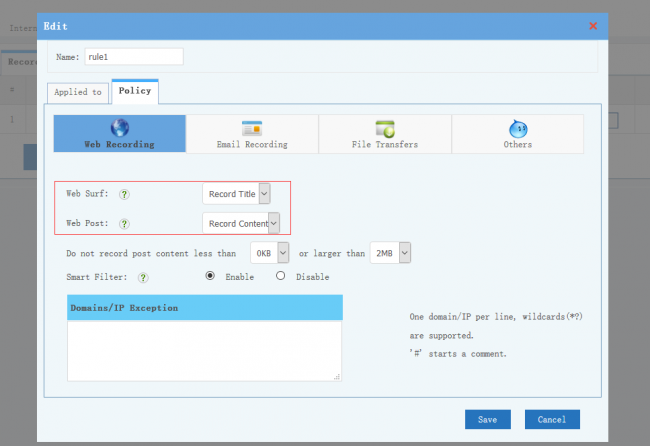 2.2 Email Recording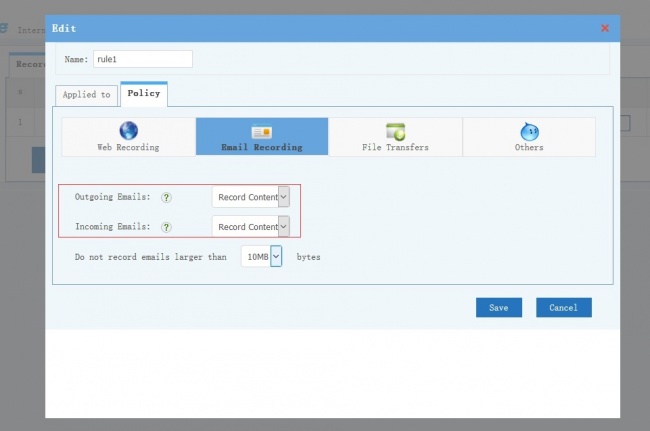 Emails supported: SMTP, POP3, IMAP4 and outgoing web-based emails.
For emails exceed size limit, only subject/from/to will be recorded.
To record ssl emails(SMTP/POP/IMAP over SSL), please check "SSL Inspector".
2.3 File Transfers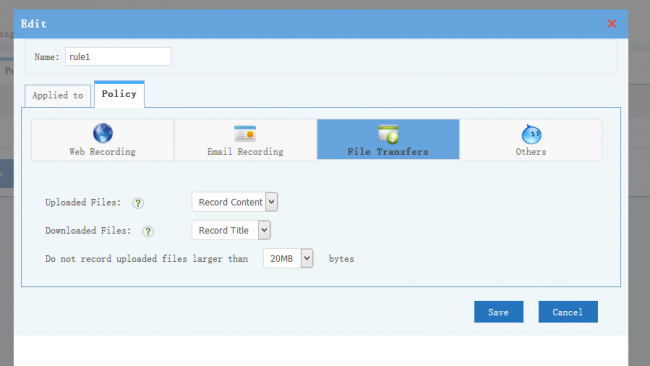 File transfers supported: FTP upload, FTP download, Web download, Web upload.
WFilter only records filenames/URLs of downloaded files. While full file content can be recorded for uploading files.
For uploading files exceed size limit, only filenames can be recorded.
To record files via https, you need to enable "HTTPS Inspector".
2.4 Others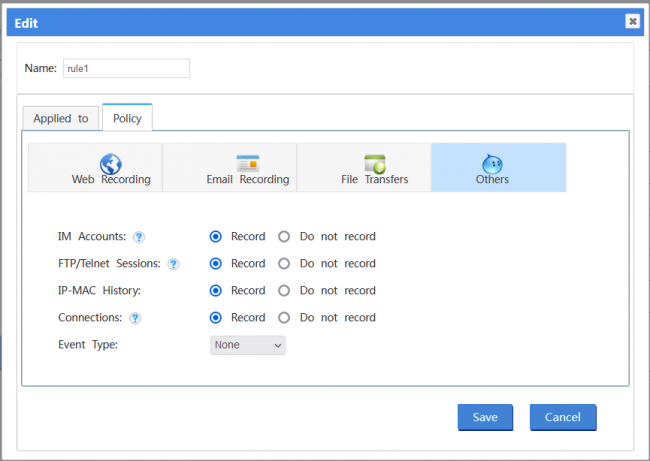 Options to enable IM acounts and FTP/Telnet sessions.
Only QQ messenger IDs can be recorded.
When "FTP/Telnet Sessions" is enabled, sent FTP/Telnet commands can be recorded.
3 Advanced Settings
3.1 System
Enable Debug: write debug logs for diagnose.
Database Commit: the database commit frequency.
Additional Webmail Domains: Custom webmails to be recorded.